Hi all – It's Ho-Ho-for the Holidays! Come join me for the artists reception at Estey Gallery, 216 First Street this Friday, November 19 from 5:30 – 7 p.m. The show is open now and runs through the holidays. See you there!!

Here is one of my paintings on display! It's called Patience and we can all learn a lot from our beloved water birds, especially during this crazy, crazy year!

Come on out tomorrow to BackRoads Vines on Suisun Valley Road for a fabulous and important event, Art from the Heart in support of SafeQuest, a Solano County's oldest trauma response team which provides services for domestic violence and sexual abuse victims.

Wine, appetizers, art, silent auction and more! I'll be showing my art and have a piece in the silent auction as well. Sunday, October 24, 1-4 p.m. $25. Family Tree is in the auction, Mountain Music will be in my booth! Come see me. BackRoads Vines, Suisun Valley Road, Fairfield.

OPEN STUDIOS

OCT 9 & 10

Studio 216 in the 991 Building will be open for visitors during the Tyler Street Artists Open Studio event.

Come see me, Connie Millholland and Janet Brock Hughes! We all have new work for you to see!

We are asking that only vaccinated visitors come and please mask up! Thanks!

Join me at:

The Crush Art & Wine Festival

September 26, 2021

Art, Wine, Music & Fun!

The Fairfield-Suisun City Visual Arts Association would like to invite the public to 'The Crush', our first annual art and wine festival.

This year's event will feature:

26 artists
wine by Backroads Vines Vineyards
food by The Landing
live music by Yuppie Liberation
and a day full of fun for the entire family.

We have plans to have this event grow and spread throughout the Suisun Valley.

Free Parking and Admission

Village 360
4949 Suisun Valley Road
Fairfield, CA 94534

Mare Island Dock of Bay Fest

Join me and other Bay Area artists at the Mare Island Dock of the Bay Music Fest on Sept. 18!

This will prove to be an exciting art and music fest coming up in just two weeks.

Great music and great art! What could be better?

Saturday, Sept. 18, 1-9 p.m. Get tickets at

Art Show

Join me for "A Farewell to Summer Show" at Estey Gallery, 216 First Street.

The Opening Reception is being held September 11 from 4-6.

I'll be exhibiting with Jeffrey Tover, Toby Tover, Merry Gregg and Bill Gian. Hope to see you there!
---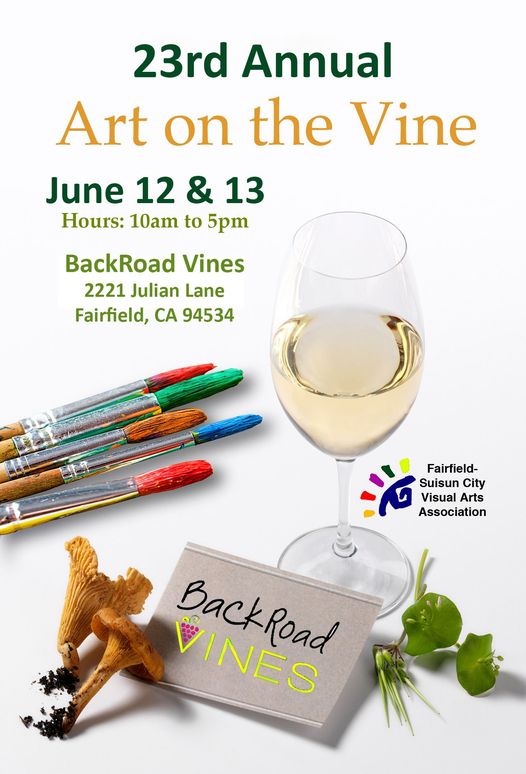 Saturday & Sunday, June 12 & 13
Now that the restrictions of the pandemic are lifting, I will be participating in my first outdoor art festival in months.
I will be part of the 23rd Annual Art on the Vine on Saturday and Sunday, June 12-13, from 10 a.m. – 6 p.m. each day. Sponsored by the Fairfield-Suisan City Visual Arts Association, the event will be held at at the BackRoads Vines, 2221 Julian Lane, Fairfield.
I'll be showing some of the abstract acrylic work that I have been doing during the pandemic as well as some watercolor work from past years. I will have smaller items such as cards and original collage on wired wooden blocks. I'll be sharing my booth space with my studio mate Connie Millholland who will feature some of her figurative paintings.
Change: Acrylic and Collage on Wood Panel
During the pandemic, I have been able to enjoy retreating to my spacious studio space at the Historical Arsenal. We are five artists who typically share the warehouse-like studio although the pandemic has force some of us to paint from home. In the good old days of a year ago, I loved painting there with my studio mates, Connie Millholland, Chris Meade, Terry Hughes and Janet Brock Hughes. They all inspire me to reach beyond my comfort zone and explore new techniques.
I continue to be very active with Arts Benicia, our arts umbrella organization which is just downstairs from my studio. Having served on the board for four years, I am now retired as a director of AB, but am committed to remaining a volunteer. Like all other member artists, I look forward to a time when the Arts Benicia Gallery can open again for exhibits, classes and events. In the meantime, like the rest of the world, Arts Benicia has maintained a lively virtual presence with online exhibits and classes and workshops. Below is Spring Tulips, one of my latest pieces which appeared in the recent annual Arts Benicia "Art of the Community" exhibit.
Spring Tulips: Acrylic and Collage on Canvas
I currently am working on additional paintings for my grouping called "A Sense of Place." Inspired by my classes with Benicia artist Diane Williams, abstract painter extraordinaire, my current series is to capture and honor the sense of place from my past, Kentucky, a beautiful state with deep history and deep conflict. And I am also working on the sense of place that California has given me. Between the two, they should offer me inspiration for years!
October/November 2020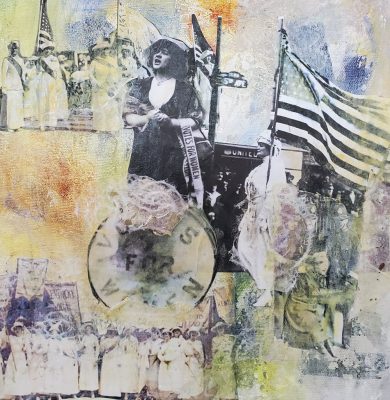 I just received notice that my painting, The March, has been accepted into Arts Benicia's upcoming virtual show, "Get the Message Out," which will be exhibited on the Arts Benicia website from November 14 – December 31 with a member preview available on November 12. Be sure to visit the exhibit @ ArtsBenicia.org
I continue to enjoy my spacious studio space at the Historic Arsenal. In 2018, I moved into Studio 216 right above Arts Benicia, sharing space with four other Benicia artists, Connie Millholland, Chris Meade, Terry Hughes and Janet Brock Hughes.
During the Covid-19 pandemic, I joined a group in Benicia to make masks for medical personnel and others. To date, our group is more than 75 strong and these amazing people have produced more than 15,000 cotton masks! The experience inspired me to start a series of paintings about ancient masks and the ways that humans have always used masks throughout history, wearing them for ceremony, for protection, for war, for disguise. CLICK HERE for the full series. I am currently working on another series of masks which will be acrylic and collage.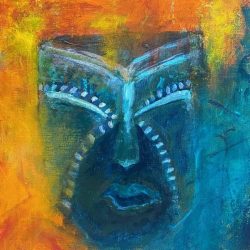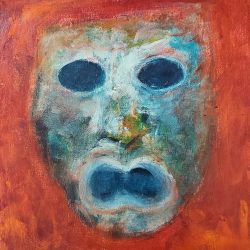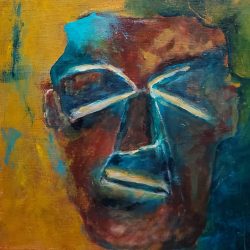 ---
In addition to 2020 being the Year of the Pandemic, it also marked other moments in history. In August, we celebrated the Centennial of the passage of the Women's Suffrage Act, signed into law on August 26, 1920. The passage was a victory for all the women and men who marched, were jailed, protested over decades, calling for equal rights for women. I marked the occasion with my painting, The March, and am in the process of creating more collage pieces in celebration.
As recognition of women's voices was heard, one of our strongest advocates was silenced. With a sad heart, I am working on a series to celebrate the life, and mark the passing, of a great voice for women, Supreme Court Justice Ruth Bader Ginsberg.
I am an active member of HQ Gallery, 333-D First Street, Benicia, HQGallery.net.
We are now open Thursday –Sunday, 11a.m. – 5 p.m. We are carefully following Covid guidelines established by the state and city. Please wear a mask and use the hand sanitizer that we provide. But we hope you will stop by and visit us. I will be at the gallery as docent on Thursday, November 5 from 11-2 and Friday, November 13 from 11-2 p.m.